A highly flexible range of high-precision flue gas oxygen analysers developed specifically for combustion analysis and control applications.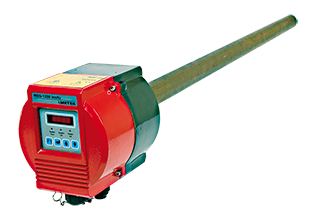 Using AMETEK's industry-proven zirconium oxide sensor technology, the WDG-1200/1210 range provides the world's first fully-integrated, standalone flue gas oxygen analysers. The user interface is mounted onto the probe, lowering installation costs.

The unique design allows the sensor assembly to be removed without disturbing the outer protection tube. This means maintenance can be carried out easily on-site, with all parts replaceable in the field, reducing costs and downtime.

The WDG-1200/1210 offers local control via the simple user interface attached to the probe, with a remote-control unit available for less accessible locations. Advanced communications options allow straightforward integration into plant control systems.

The WDG-1200/1210 range provides the essential measurements for combustion efficiency, NOx reduction, excess air measurement and pollution control applications in the hydrocarbon processing, industrial processing and power generation industries.

COMPLETELY FIELD SERVICEABLE
The inner tube structure, including the sensor assembly and heater, can be completely removed, leaving the outer protection tube in the process. This makes field service fast and easy, without the expensive downtime of a return-to-factory repair.

SIMPLE, FLEXIBLE OPERATION
The user interface is mounted onto the probe for local control at the measurement location. For restricted or hostile locations, a remote-control unit is available. Both methods use simple push-button operation and a clear LED display for ease of use.

VERSATILE PROBE AND MOUNTING
310 stainless steel probes for the WDG analysers are available in various lengths, with a range of mounting flange options to suit your process. A dust-protection filter at the end of the probe prevents fly ash damage to the sensor.

The WDG-1200/1210 range is AMETEK Land's ground-breaking series of flue gas oxygen analysers.
Brochures