An advanced carbon monoxide detector designed to provide early warning of spontaneous combustion in pulverisers for coal and biomass.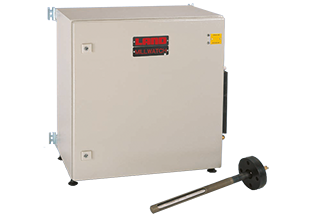 Specifically designed for early detection of potential fire risk in pulverizing mills in coal or biomass processes, Millwatch monitors and quickly responds to sudden carbon monoxide (CO) build-up, allowing preventative action to be taken before a hazardous condition develops.

Using AMETEK Land's unique detection system, Millwatch provides continuous, accurate monitoring of CO levels – improving process safety, protecting expensive mill equipment, and preventing costly downtime from unnecessary shutdowns.

Millwatch continuously extracts sample gases from the mill outlet for a constant, dual-sensor CO measurement. Customisable alarms adapt to individual plant process conditions, while automatic calibration ensures high measurement integrity is maintained 24/7.

Specifically designed for power generation operators who need to improve process safety in mills and pulverisers using coal and biomass fuels, Millwatch ensures the protection of people, plant and process.


RELIABLE MONITORING
Millwatch has been proven in dozens of applications worldwide, providing enhanced safety and continuous monitoring. The detector's extractive dual sensor system allows very high stability and automatic detection of calibration drift.


FAST, CONTINUOUS MEASUREMENTS
Millwatch features truly continuous measurement with no multiplexing. The fast response (T90 typically < 50 seconds) to increases in CO levels provides early warning to the operator, enabling prevention of plant damage and personnel injury.


A RUGGED SAMPLE SYSTEM
To ensure maximum lifetime and reliability of the detector, the mill probe uses a large area stainless steel filter and a hardened abrasion shield. Blowback keeps this filter clear, ensuring minimum downtime. Freeze-protected sample lines are available for outdoor applications.

Millwatch is AMETEK Land's carbon monoxide detector for detection of early-stage combustion in biomass and coal mills.
Videos
Brochures