Dust and opacity monitor for monitoring combustion processes where automatic calibration checks are not needed.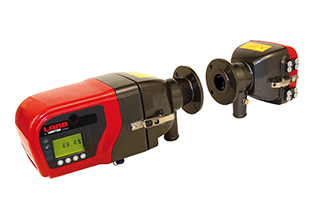 The 4400 is the most accurate and reliable monitor available for dust and opacity measurements in combustion applications not requiring automatic calibration checks.

Optimised for multi-process plants, 4400 delivers you immediate performance and cost benefits through easy installation, simple operation and low maintenance requirements.

A highly homogenous green LED light source, glass multi-prism retro-reflector and flood LED minimise sensitivity to changes in alignment and ambient temperature: this ensures low optical and electronic drift, giving the exceptionally accurate, stable measurement you need.

Ideal for combustion applications where an automatic calibration check is not required, the 440 is suitable for use power generation, industrial boilers and pulp & paper industries.

A TRUSTED COMBUSTION MEASUREMENT
The 4400 accurately measures dust and opacity levels across key combustion processes, including electricity generating units, industrial boilers, furnaces, kilns and dust collectors.

TROUBLE-FREE OPERATION
Lightweight and compact, the 4400 is designed to operate easily, with no moving parts to ensure high reliability. The menu tree is intuitive, using text and icon prompts. A manual calibration check can be performed while the process is running.

WIDE OPERATING TEMPERATURE RANGE
Suitable for monitoring dust and opacity across an extensive range of combustion processes, the 4400 operates from -40 °C to 55 °C (-40 °F to 131 °F). This brings unprecedented flexibility to a wide variety of applications.

The 4400 is AMETEK Land's advanced, compact monitor for opacity and dust.

TUVdotCOM approved to EN 15267.

*4500 MkIII is recommended for measurements requiring automatic zero and upscale checks, as specified by ASTM D6216 and US EPA Performance Specification 1.
Brochures