Accurate and flexible infrared thermometer measurements for measuring glass surface temperature in the tin bath and annealing lehr on float lines.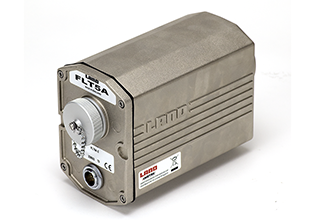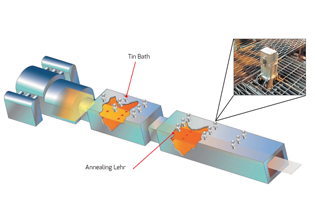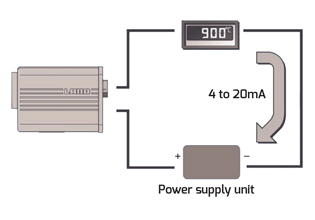 The FLT5A is a standalone thermometer offering precision measurement of the surface temperature of glass float lines, ensuring consistently high product quality throughout the process.

Offering excellent precision and long-term stability, the FLT5A's extensive measurement range removes the need to use a range of temperature monitoring instruments on the float line, simplifying system integration and operation.

Accurate temperature measurement is vital in ensuring uniformity across the entire width of the glass. The FLT5A measures glass surface temperature in the range 250 °C to 1300 °C, with excellent precision and long-term stability.

High measurement precision is achieved using AMETEK Land's leading-edge infrared technology, which gives a highly accurate, non-contact measurement with 1m fixed-focus 50:1 optical field of view.

Custom-designed for use in float lines in the glass production, the FLT5A is suitable for use through the process: from the initial floating and forming in the bath, to the cooling and annealing sections in the tin bath and annealing lehr.
WIDE MEASUREMENT RANGE
Providing a spectral response from 4.8 to 5.2µm, the FLT5A measures from 250 to 1300 °C. This means the thermometer can be used at more points on the line, reducing the number of different types of device needed.
ACCURATE RESULTS
With low 'penetration' into the glass, the thermometer's 50:1 optics and fixed 1m focus ensure 98% energy from the 20mm target spot. This gives precise, stable results for surface temperature, even in conditions of high atmospheric humidity.
SUITABLE FOR HOSTILE ENVIRONMENTS
The 4-20mA loop-powered thermometer is quickly demountable from a cooling jacket, and is compatible with an extensive range of mountings and accessories including System 4 range, enabling use in harsh conditions

The FLT5A is AMETEK Land's infrared thermometer dedicated to the tin bath and annealing lehr on glass float line applications.
Brochures