Pre-configurerd systems for differnt usage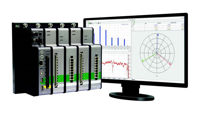 10.150000SYS
Power Quality System - Power Quality System The Power Quality Unit ibaPQU-S can be used for high-accuracy monitoring of the power quality in energy grids. For this purpose, characteristics of electric power quality are calculated according to the standard and are acquired and recorded by ibaPDA.
30.681500SYS
A preconfigured Thinkpad with PLC-Xplorer: Data Acquisition for 64 signals with Xplorer-interfaces
PLC access via system services, 64 signals - Features:
acquiring up to 64 signals via Xplorer interfaces
Data acquisition system with on-demand access to Operands/Symbols
without additional communication hardware
max. number of connections / modules per interface: 16
10.170001SYS-DAQ
Modular Measuring System Measurement modular system - The flexible measuring system for flexible use, free configurable with 1 central unit and up to 4 I/O modules from the iba modular system.