Pre-configurerd systems for differnt usage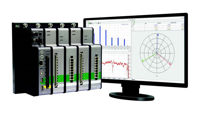 10.150000SYS
System för energikvalitet ibaPQU-S System är ett system för mätning av energikvalitet i nät med hög noggrannhet. Systemet är förkonfigurerat och beräknar och analyserar olika parametrar enligt standard. Dess data spelas in och sparas sedan I ett standard ibaPDA för vidare analys I iba:s olika analysverktyg. .
30.681500SYS
A preconfigured Thinkpad with PLC-Xplorer: Data Acquisition for 64 signals with Xplorer-interfaces
PLC access via system services, 64 signals - Features:
acquiring up to 64 signals via Xplorer interfaces
Data acquisition system with on-demand access to Operands/Symbols
without additional communication hardware
max. number of connections / modules per interface: 16
10.170001SYS-DAQ
Modulärt Mätsystem Mätsystem för iba:s modulära systemmoduler - Det flexibla och konfigurerbara systemet med en centralenhet för kommunikation (alt. kommunikation och lagring) och upp till fyra st I/O moduler.